Driving Higher Off-Premises Checks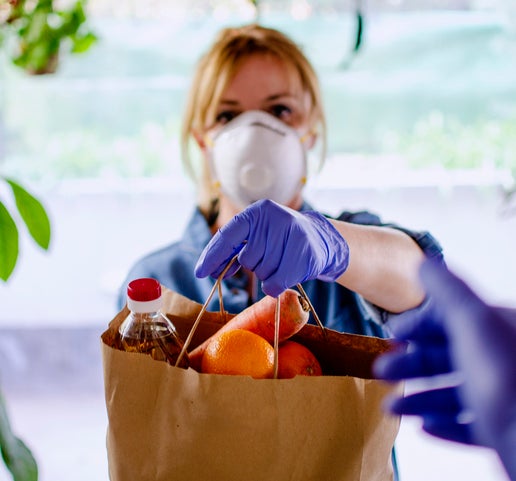 Operators can incentivize add-ons that enhance the customer's experience.
As operators around the country were forced to shutter their dining rooms during the COVID-19 outbreak, many discovered that they could drive higher check averages for takeout orders by offering bundled family meals.
These supersized offerings proved to be a natural fit for households populated by homebound parents and children with few activities to interrupt their mealtimes.

In fact, many operators have reported higher check averages for takeout orders during the pandemic than they had previously experienced, in part because of these bundled meal deals that often combine entrées, appetizers, sides and desserts.
Exploring Data-Driven Upselling
"During the pandemic, we've seen all of our customers on average increase their average order size by 50 percent," says Sashika Dias, co-founder of Incentivio, a supplier of white-label digital technologies to restaurant companies.

Incentivio is currently testing a suggestive-upselling and cross-selling solution for restaurants that leverages artificial intelligence and machine learning. The technology will analyze data from all previous orders that have been placed at the restaurant to suggest add-ons that best complement each customer's order.

The potential for such data-driven upselling is one of the chief reasons McDonald's last year acquired Dynamic Yield, a technology company specializing in machine learning that provides personalized product suggestions to e-commerce shoppers based on a range of variables.
"During the pandemic, we've seen all of our customers on average increase their average order size by 50 percent."
– Sashika Dias
Co-Founder of Incentivio
Restaurants have good reason to explore data-driven solutions for upselling. Leveraging data analytics to create individualized communications with customers can drive a 5-percent increase in incremental sales among loyalty program members, according to research from Boston Consulting Group. That's in addition to enjoying the benefits of having a loyalty program in the first place.

While few operators have the resources of a McDonald's to acquire their own artificial intelligence companies, and many lack loyalty programs that automate upselling and cross-selling, there are actions they can take to encourage increased spending among their takeout and delivery customers.
Following are a few suggestions:
Get Creative with Beverages. The ability to merchandise alcoholic beverages for off-premises consumption has helped many operators increase order sizes where laws have been modified to allow for this. One creative way operators are encouraging off-premises drink sales is to feature virtual happy hours, which incentivize customers to order appetizers and drinks while enjoying a music or video feed from the restaurant. Operators with signature craft drinks also can showcase these beverages in their promotions for off-premises dining.
Wine-centric restaurant Arden in Portland, Oregon, has been hosting virtual wine tastings during the pandemic, focusing on wines from a different region each week and led by the restaurant's sommelier and owner, Kelsey Glasser. No purchase is required, but the restaurant offers the wines for sale and announces the following tasting a week in advance.

To encourage non-alcoholic beverage sales, operators can consider merchandising bulk beverages that can quench the thirst of the whole family, such as gallons of iced tea or lemonade, as add-ons to family meals. Placing impulse displays of beverages at the point of pickup for take-out orders is another tactic deployed by operators. These can take the form of glass-door coolers in the takeout area, or a simple shelf displaying a row of bottles or cans of beverages available for takeout.
Bundle Groceries with Takeout Orders. Many operators have leveraged their inventories to launch retail sales of grocery items, from eggs and fresh produce to high-end steaks and seafood. Operators have an opportunity to encourage consumers to order meal components at the same time they are ordering meals to save them from having to make another trip out of the house, says Bruce Reinstein, a partner in consulting firm Kinetic12.

"If I'm operating an Italian restaurant that makes the best Bolognese sauce around, I can promote that as an additional item for customers," he says. "If they're coming in for a Penne Bolognese, the restaurant should be offering Bolognese sauce by the quart, which allows you to get two meals out of the customer instead of one."
Leverage Curbside Pickup. Reinstein says offering curbside pickup is also helping to drive higher checks because many customers appreciate the contactless nature of the service.

"There's a certain comfort level as far as safety and sanitation is concerned," he says. "Delivery is not going away, but delivery is convenience-based. Curbside service offers the ability to have restaurant quality food at home. I consider them totally different, and it will naturally raise the check because customers want restaurant quality food."
Offer Gift Cards. During the pandemic, many consumers have been unable to take their friends, family or co-workers out for meals as much as they previously had—if at all. This presents operators with an opportunity to encourage their customers to buy restaurant gift cards instead as an alternative way to share meals, says Rajat Bhakhri, co-founder of Incentivio. "This can be a huge revenue source," he says.
Restaurants can encourage customers to buy gift cards by offering small incentives, such as a free appetizer, adds Dias.

The bottom line when seeking to drive higher off-premises checks is that operators need to deliver something that benefits the customer in some way.

"It's really all about creating a great guest experience," says Dias.