Maintain Brand Identity in Marketing
Off-Premises Offerings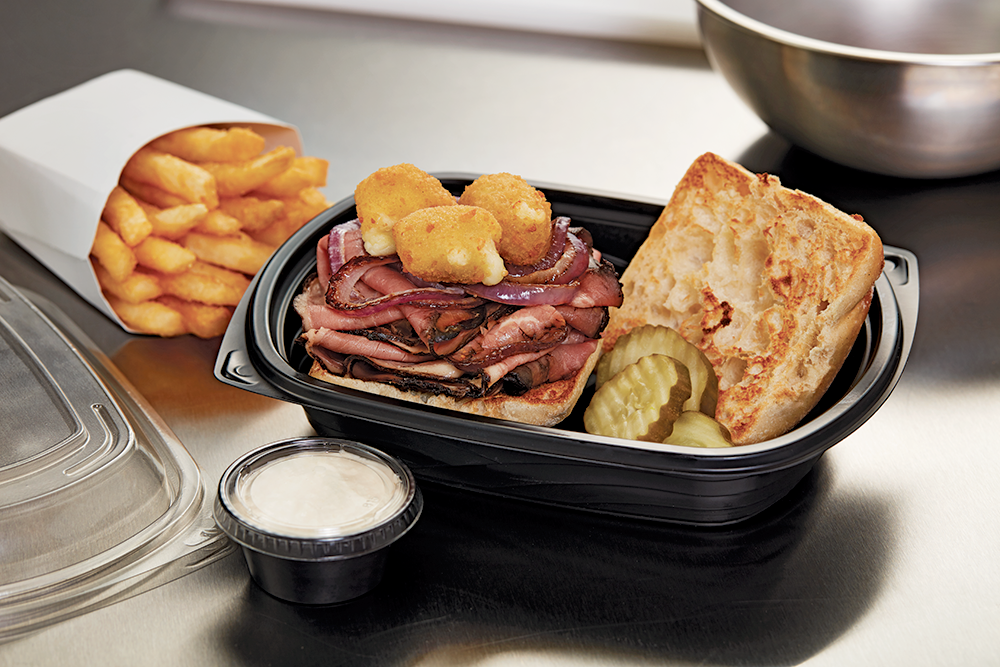 Operators strive to maintain messaging while they focus on   delivery, takeout.
Foodservice operators seeking to promote their delivery and takeout offerings during the COVID-19 crisis should strive to maintain messaging that showcases their own brand identity. 

The high levels of in-store service that operators may have prided themselves on in the past need to be translated into the delivery and takeout experience, and reflected in its messaging to consumers.
"Now, more than ever, you're going to have to be differentiated and communicate who you are and what makes you unique—your core brand identity," says Scott Landers, cofounder of restaurant delivery consulting firm Figure Eight Logistics in New York. "You're not going to be able to ask guests to come in, sit down and be impressed with your service, be impressed with the art on your walls or the music on your speakers. You're a digital company now. You're a ghost kitchen."
Communicating Who You Are
As a result, operators must be especially conscious of the "voice" they project to the public in all of their communications and marketing, including their take-out menu design and offerings.
While many operators have teamed up with third-party delivery firms to help execute delivery, they should strive to promote their own services as much as possible, he says.

Landers does not advocate offering free delivery as a marketing tactic because of the high costs involved with providing this service. Consumers have accepted that there is a cost associated with delivery and are willing to pay it, he says. Instead, he suggests incorporating a giveaway or promotion that reinforces an operator's brand.

"If you have these amazing cupcakes, consider an offer like 'Get a free mini cupcake with your first order,'" Landers says. "It can have the same value as the delivery, but I think you would be more clearly highlighting who you are and what you're about."
"Always go native when you can, market your own channel, your direct delivery or whatever gets guests to visit your website or call your number or come into your restaurant."
– Scott Landers, Cofounder of
Figure Eight Logistics
Know Your New Customer Base
It's also crucial for operators to reconsider who might comprise their new customer base. If a business has traditionally drawn lunch crowds from local businesses, for example, it might make sense to learn more about who's working from home in the area and to reach out to those potential customers.

Operators also should consider that homebound consumers will likely be glued to their computers and phones, which makes social media a key platform for operators to promote their off-premises offerings.
"Social media, social media, social media"
– Amanda Young, Director of Preperations
at Breckenridge-Wynkoop
"Social media is the quickest way to reach our guests, and it is even helping us keep our teams at work [maintaining the daily messaging], says Amanda Young, director of operations at Denver-based Breckenridge-Wynkoop, which operates The Cherry Cricket casual burger-and-beer concept and a handful of brewpubs in Colorado."

The company has also been conducting some old-fashioned grassroots marketing, such as distributing paper flyers to local communities within walking distance of its restaurants.

Breckenridge-Wynkoop has also found a way to delivery happy hour to people's homes. Leveraging Colorado's easing of regulatory restrictions on restaurant sales of alcohol for off-premises consumption, the company has been promoting happy hour discounts on its home-brewed beers.
Emphasize Safety, Community
Aaron Novoshen, founder and CEO of restaurant consulting firm The Culinary Edge and restaurant chain Starbird, points out that restaurants should include messaging about the steps being taken to ensure the safety of customers and employees. This could be posted on the website and updated as often as necessary and the situation evolves.

It might also be necessary to reach out to customers simply to let them know that your restaurant is open, as well as the options for ordering delivery and takeout.

Novoshen emphasizes the importance of maintaining messaging that shows a restaurant's support for the the community.  

"Be human first," he says. "Think about what service your promotional strategy can serve not just for your balance sheet, but also for your community."

For example, Starbird is planning to roll out a program offering children a free Lil' Tender Box with the purchase of a regular meal. Starbird is also planning a promotion through which it will donate a free meal to hospital workers for each order of $40 or more.
Take Care of Your Employees
Likewise, many restaurants around the country have been ramping up their employee meal programs to care for their workers who may have been furloughed or had their hours reduced.

At Angry Crab Shack in Mesa, Arizona, all employees, who have had their hours reduced to rotating, three-hour shifts, can come in and pick up a free meal for their entire families, a move that can be expected to generate goodwill in the community during troubled times.

The 10-unit chain had not been offering delivery at all before the crisis, but has begun using a third-party delivery platform to offer the service. It is promoting its offerings on a banner outside each store and on social media.
"Times change, and you have to adapt"
– Ralph Prestwood, Store manager
at Angry Crab.