Satisfy Football Fans with Contests, Promotions
Fantasy leagues, game-day offers present opportunities for takeout and delivery.
The upcoming National Football League season presents a prime opportunity for restaurateurs to score extra points with fans, particularly given the increasing digital connectivity that operators have established with customers.

Operators that have enhanced their delivery and takeout capabilities during the past year can leverage those skills to promote game-watching solutions for fans watching at home. These can include promotions such as contests, fantasy football party packages and other incentives that encourage customers to boost game-day orders with appetizers, wings and other items beyond the standard pizzas and sub sandwiches.
These types of promotions "can really move the needle," says Monica Mulcahy, senior director of corporate partnerships at Texas Motor Speedway & Speedway Motorsports. Mulcahy has previously worked in a similar capacity with other professional sports organizations, including pro hockey and pro soccer teams.

"Contests can work very well," she says, citing "watch-and-win" offers in which fans can enter a code or redeem a coupon for the opportunity to win prizes such as signed memorabilia, tickets to a game or even tickets to the Super Bowl.

These types of contests can take place over the course of the season to encourage repeat purchases and drive spending week after week. They can also help build lists of customers who can be targeted with future sports-themed promotions.
Partnering with sports franchises also creates opportunities for restaurants to communicate with those teams' fan bases directly, says Mulcahy.
"During the pandemic, a lot of teams have done digital outreach to fans, and there's a lot of opportunity to message those teams' fan bases digitally, with a unique offer or a package deal for an at-home watching experience," she says. "My suggestion would be to find those teams or those properties that align with your customer and work collaboratively with them."
One way to do this is to create packages that are thematically tied to individual players, such as dishes that can be promoted as the favorites of specific individuals. Teams and players can then share these promotions on social media, and restaurants can even leverage these social media posts to create offers. Customers could earn a discount by showing a specific tweet or other social media post when they make their purchase, for instance.


This year some chains have begun promoting NFL fantasy league parties for customers to enjoy at home. Buffalo Wild Wings is promoting the option of reserving space at its restaurants for NFL fantasy draft parties or having party packages delivered. Bundled products include various bone-in and boneless wing packages with French fries.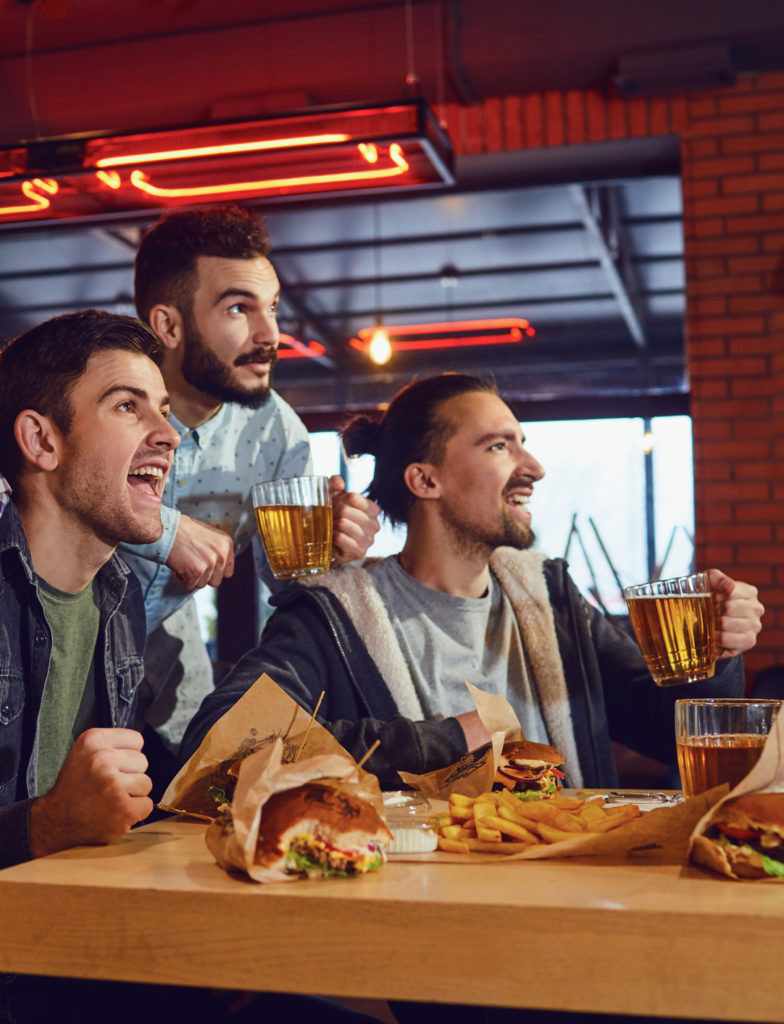 Atlanta-based Hooters has for several years promoted NFL fantasy football and offered promotional tie-ins with NFL games. It offers an online message board where fantasy football participants can "talk smack," for example, and last year during the NFL season it offered an MVP Bundle for takeout or delivery that included 20 traditional wings, 22 boneless wings and two side dishes.
Other ideas for promotions include offering free delivery during Monday Night Football for orders that exceed a certain dollar total, such as Applebee's did when it first rolled out its home delivery program a few years ago. This incentivizes customers to add appetizers or side dishes to reach the free-delivery threshold.
Fall can be a good time of year for restaurants to get engaged with other sports franchises that might align with a restaurant's fan base.
Mulcahy also points out that fall can be a good time of year for restaurants to get engaged with other sports franchises that might align with a restaurant's fan base. These can include professional hockey and basketball teams, Major League Soccer teams—in time for the playoffs—and college sports teams. Often, these partnerships require a lower investment than a partnership with an NFL team, she says.

A handful of restaurant operators have also recently launched tie-ins with individual college football players under the National Collegiate Athletic Association's new name, image and likeness (NIL) policy that allows college athletes to earn revenues from corporate sponsorships.
Baton Rouge, Louisiana-based chicken-fingers specialist Raising Cane's has unveiled partnerships with three collegiate football players who have already begun promoting the chain's products on social media.

And another quick-service chicken chain, Charlotte, North Carolina-based Bojangles, agreed to deals with quarterbacks DJ Uiagalelei of Clemson University and Sam Howell of the University of North Carolina-Chapel Hill. Both athletes will make appearances on behalf of Bojangles and share content on their personal social-media accounts, Bojangles says.

In addition, each football season Bojangles partners with more than a dozen universities to offer Big Bo Boxes—family-sized meals containing hand-breaded, Cajun-spiced chicken pieces, Southern sides, scratch-made buttermilk biscuits and the chain's Legendary Iced Tea.

Glen Burnie, Maryland-based Mission BBQ, meanwhile, which has locations in the Midwest and Mid-Atlantic, is partnering with the offensive linemen of Notre Dame and the University of Wisconsin for promotions this year. Similarly, Wright's Barbecue, with locations in Arkansas, is teaming up with the University of Arkansas linemen in an agreement that names them as the official Protectors of the Pit.

For more ideas about how to offer solutions for sports-loving customers this season and beyond, visit McCain Foodservice.